Whitby attractions & visitor guide
Last updated: April 21, 2021 10:49 am
Whitby is a charming seaside town conveniently located close by to our cottages. It offers easy access with guests able to catch the local bus which takes you straight in to the town, alternatively there are park and ride options. There is also a car park in the centre allowing guests the chance to park up and explore the wanders of this town. This lovely fishing town has a lot to offer including a range of activities and fantastic eateries.

Whitby Abbey
Whitby Abbey has been inspiring visitors for over 1,500 years, these gothic ruins are some of the most celebrated in North Yorkshire. Whitby Abbey has inspired many writers and artists due to its fascinating history. In AD 657 the first monastery was founded which became one of the most important religious centres in to Anglo-Saxon world. In 664 Whitby hosted a landmark meeting, known as a synod, to decide the date of Easter. This was crucial in determining the direction of the English church. The Benedictine monastery was suppressed by Henry VIII in 1539 and its ruins are the ones we see on Whitby headland today.
The visitor centre & museum is housed in a 17th century mansion where visitors can explore Anglo-Saxon crosses and other objects. There is even a rare signed copy of Bram Stoker's novel Dracula. Guests can also explore the collection in 3D with interactive descriptions of each object.
Whitby whale watching
Whitby whale watching is a fantastic day out for the entire family. This activity allows guests to get up close to whales, dolphins and other sea creatures. Trips often last up to 4 hours as you explore many miles offshore. The trip takes part on one of 2 vessels. The first is a 17m motorsailer Specksioneer; a specksioneer was a whaling boat's chief harpoon-firer. The boat can carry 12 passengers at a time and has on board toilet facilities for all guests. The second vessel is Summer Queen, this boat is much larger and offers cover for passengers. Working with both vessels means the area covered is much larger, with more spotters, providing a better chance of sighting whales.
The whales tend to move along the East Coast of Yorkshire during Summer and in to Autumn where they follow the shoal of mackerel and herring. Bryan Clarkson is a seasoned skipper and has had many successful trips spotting whales. The most frequently spotted are Minke whales due to their distinctive heads and curved backs. These whales can be up to 32ft long. There have also been sights of other whales including hump, sei and fin.
All trips depart from the Brewery Steps, St.Ann's Staith, Whitby, YO21 3PW. Trips can be booked by contacting Jill on 07507 881934 or Bryan on 07941 450381.
Whitby beaches
Whitby has beaches on both sides of the River Esk. These family friendly, expansive beaches offer summer donkey rides, fish & chips, beach huts & lighthouse views. Extra care should be taken to the tide times on the East Side as it is easy to get cut off. This beach is a great area to explore fossils in the many rock pools. The second beach is ideal for families and is located below Whitby's West Cliff. This sandy beach is cleaned daily by the tide and offers a wonderful space to have a leisurely walk next to the sea. It is possible when the tide is in to walk right the way to Sands End. The beach offers a great selection of cafes close by as well as public toilets and has life guards on duty most days.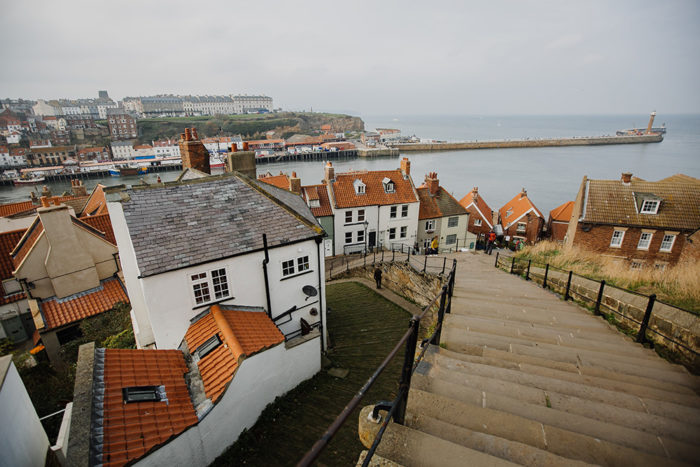 The One Hundred & Ninety-Nine Steps
The famous one hundred and ninety-nine steps guides visitors from St Mary's Church & the Abbey down to the harbour shops. A climb up these 199 stone steps offers sweeping views of the harbour & town of Whitby. This is a fun activity for children to count the steps and check the roman numerals which tells you how many steps you have done. Don't let the number of steps intimidate you as there's plenty of benches placed at intervals on the ascend.
Whitby swing bridge
Whitby Swing Bridge is a pedestrian and road bridge over the River Esk connecting the two sides of Whitby harbour. For fans of the Grand Tour this bridge was made famous by Simon Pegg who fell off it on one of the episodes. There is a blackboard on the new town side which details opening times. It is manned for two hours either side of high water, if you time it right you can see it open for yachts and boats to move in & out of the harbour.
Snickets & ginnels
Narrow lanes run off the main street in Whitby where guests can explore many of the towns hidden snickets and ginnels. Originally cut throughs and back streets these snickets often have quirky names and are a great way to explore the towns rich history.
The Magpie Seafood Restaurant
Whitby is home to many fabulous eateries with the Magpie being one of them. Booking for this place is virtually impossible given its incredible reputation and meals could set you back a few pounds, however if you're prepared to join the long queue that forms, we can guarantee you will not be disappointed. Overlooking the harbour, adjacent to the fish dock this really is one of the finest seafood places around.
Trenchers Fish & Chip Restaurant
Whilst you're at the seaside fish and chips is certainly a must and this has to be a firm favourite! This wonderful restaurant boasts a warm, pleasant atmosphere year-round with locally sourced fish. If you're visiting during Winter months, be sure to take advantage of the two for one offer. The Trenchers Restaurant has a fantastic menu choice including gluten free options.
Esk Belle boat trips
The Esk Belle is one of many coast cruises available from the harbour. This short boat trip is a perfect way to spend a morning or afternoon enjoying the sights of Whitby from the sea.
Captain Cook Museum
The Captain Cook Memorial Museum is a fantastic way to learn about the history of Captain Cook. The museum building belonged to Captain John Walker, to whom James Cook was apprenticed in 1746. Having lodged there as an apprentice, Cook returned to visit in the winter of 1771–72 after his first voyage. The museum often runs events and also has a gift shop with Captain Cook memorabilia.
Pannet Park Museum
The Whitby Museum is full of amazing treasures. Here guests can explore a fantastic array of fossils all found in Whitby and the local area. There are also a great range of artefacts showcasing the history of Whitby. The museum also has an on-site coffee shop, a lovely area to take a moment to relax and enjoy the surroundings.
Old Town market square
The old town market square is often occupied by market stallers during Summer months offering visitors an opportunity to shop an eclectic range of goods. The square adjoins an indoor market which sells a variety of merchandise from local sea inspired gifts to sweets and vinyl records. The square is definitely worth a visit as you never know what you might come across.
Mary Ann Hepworth
Mary Ann Hepworth is the name of Whitby's lifeboat. The boat is one of the longest serving lifeboats in the R.N.L.I fleet. After 36 years of service, being launched 372 and saving 201 peoples lives the boat was replaced by the Waveney class lifeboat.
Back in Whitby the boat was restored and after several inspections was given permission to do pleasure trips. Leaving every half an hour from 10am until dusk throughout the season this boat allows guests to enjoy a trip on one of Whitby's unique pieces of maritime history.
St Mary's Church
This fascinating church building is packed full of pews and a charming raised pulpit. It is situated on the town's east cliff, overlooking the mouth of the River Esk overlooking the town, close to the ruins of Whitby Abbey. A flight of 199 steps lead up the hill to the church from the streets below. The church graveyard is used as a setting in Bram Stoker's novel, Dracula. The building is known for its box pews, triple decker pulpit, and Elizabethan communion table, as well as several fascinating details.
Arnold Palmer Crazy Golf
Fun for the kids and big kids amongst up this crazy golf course is a great activity on the West Cliff. This nine-hole course features a windmill obstacle amongst many others. Ring the bell at the end and you may just get a free second round!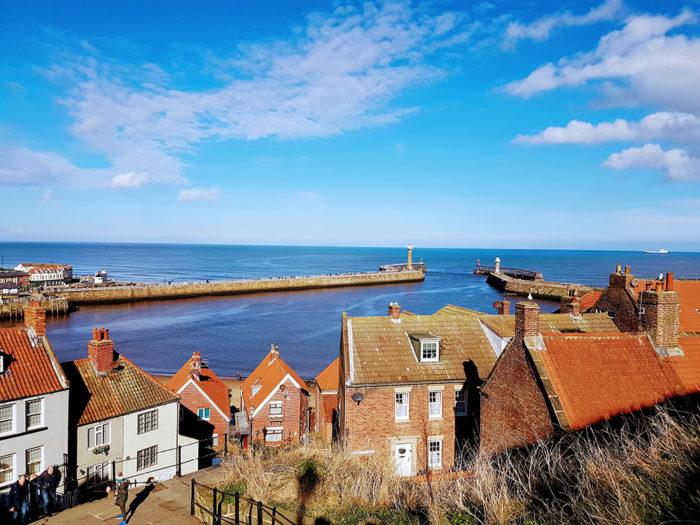 Fishing trips
There are many charter angling fishing boats operating out of the historical, picturesque port of Whitby. Head down to the harbour side next to the information centre where you can explore the different options available.
Planet Park children's playground
The perfect place for the kids to let off some energy. This playground is one of the best in the area. It is full of up-to-date playground equipment and also has the added bonus of being next door to the museum café. It's a great space for you to have fun with the kids whilst also taking a moment to yourself.
Dracula Experience
Famous for being the place Bram Stoker was inspired to write his iconic Dracula novel Whitby hosts an annual goth weekend. Dracula is certainly a top attraction in Whitby with the Bram Stoker experience boasting lifelike models, opening coffins, special effects and live actors. This immersive experience is a unique tour through the Dracula story and the connection to Whitby.
The Arcades
It wouldn't be an English seaside town without some arcades. The Whitby arcades have slot & gambling machines in abundance along with indoor pirate themed crazy golf and games which require a little more skill. Whilst having fun on the arcades you can also enjoy some seaside treats including candy floss, hotdogs and donuts.
Open top Whitby Guided Tour Bus
One of the best ways to get around Whitby and enjoy all it has to offer is on the open top bus tour. Run by Coastal and Country coaches these iconic yellow open top tours offer a 1 hour guided experience that lasts all day. Visitors can simply hop on and off as many times as they please to explore different parts of the town. The tours run 7 days a week.
The Summer schedule runs April 1st to 6th September. Stops at co-op, bandstand, whale bones, west cliff attractions, Whitby abbey and captain Cook museum. To find out more information or to make a booking contact Mr Chris Vasey on 01947602992.
Whitby ghost tours
The Whitby ghost tour features spine tingling tales and lots of rich history. Some of the stories include the Whitby witches, the haunted lighthouse, Dracula's bench and more. Whitby is the perfect setting for a ghost walk due to its windswept cliffs, ancient harbour and high open moor.
Guests are invited on a 75-minute tour to discover strange and supernatural tales of murder, mystery and suspense. The Ghost Walk starts from the Whale Bone Arch opposite The Royal Hotel, West Cliff, Whitby YO21 3HA, no booking is required simply show up! To find out more information call 07880 801 957.
Whitby rock shops
When visiting the seaside, you have to pick up an obligatory piece of rock! Whitby has quite a few souvenir shops which have plenty of choice of rocks in various flavours. The perfect treat for you or a nice gift for someone back home.
Fresh fish
If you're an early riser why not head down to the docks to see the fresh fish arriving each morning. Whitby is a traditional fishing port which, for generations, has been recognised as one of the premier homes of quality fresh fish products. There are plenty of shops along the harbour selling the fresh fish including the famous Whitby dressed crab.
Fortunes kippers
For fresh kipper fans follow the aroma past the steps and up to the Abbey where you will find the culinary delight being sold. Fortune's smokehouse and shop is one of Whitby's most famous attractions and sampling their smoked kippers is a must!
Whitby Leisure Centre
The Whitby Leisure Centre offers a great range of activities. The gym features a fantastic range of equipment whilst the swimming pool offers swimming lessons. There's also a sports hall and regular fitness classes. To find out more information call 0194 760 4640.